CHAMBER
CHAMBER is a sci-fi intrigue playset for the PARAGON system from the AGON roleplaying game. A copy of AGON is required to play. For more on the PARAGON system, including how to publish your own playsets, visit AGON-RPG.com.
The year is 1968. Two years ago, on January 7, 1966, an alien energy, now known as THE SIGNAL, reached the Earth. It spread through telecommunications systems, affecting people and technology around the globe. Its existence is not publicly known, though its strange effects have been widely reported.
You work for CHAMBER — a secret agency tasked with capturing or destroying Signal Resonant Materials (SRMs) — objects imbued with THE SIGNAL — as well as containing its transmission and dealing with people harmed by it (or working to harness its power).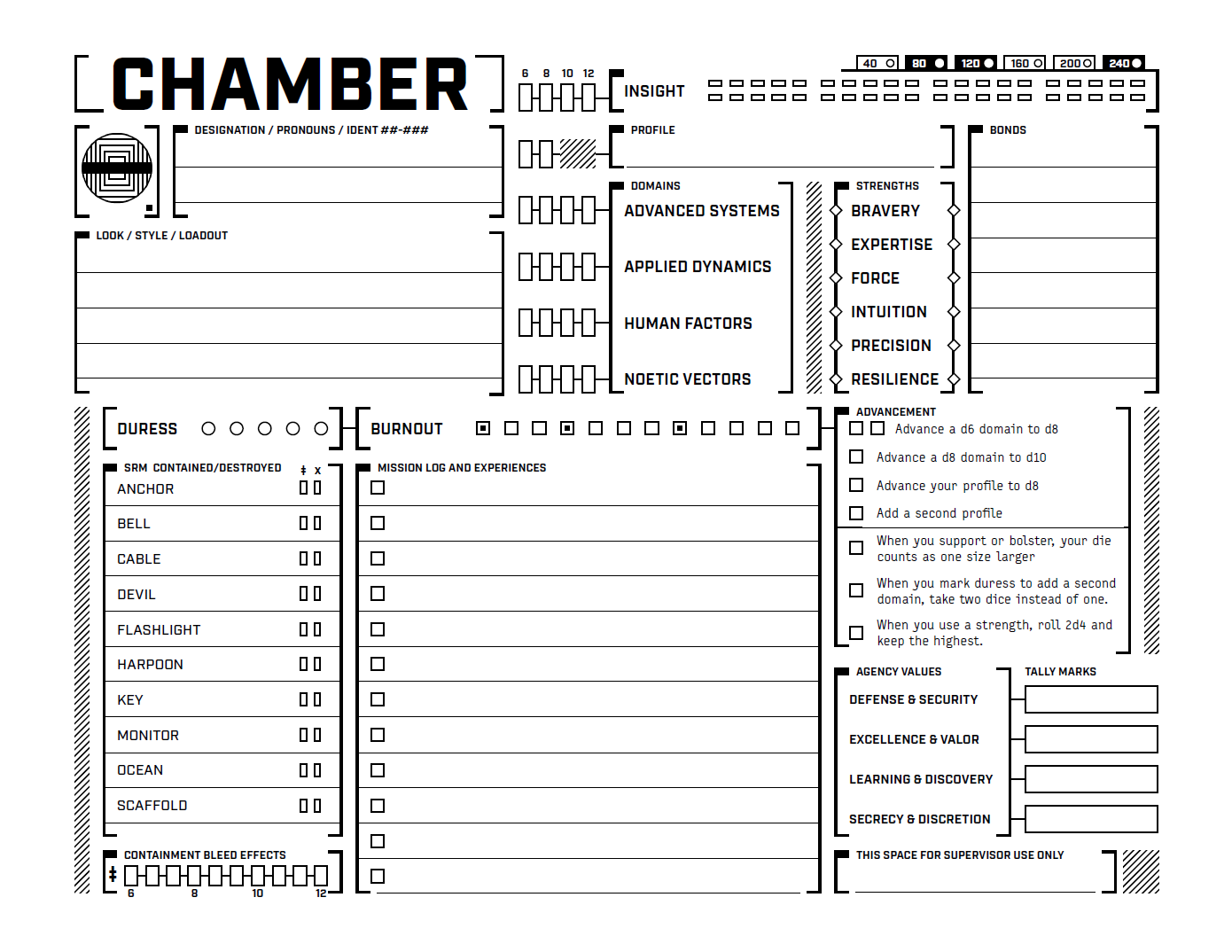 CHAMBER adapts the fast and flexible PARAGON system to a world of Cold War sci-fi intrigue and danger inspired by SCP Foundation, Control, and The X-Files. Create your agents in a few minutes, consult the mission and location tables for instant prep, and get started playing right away.
For discussions about CHAMBER, AGON, and other PARAGON system games, visit the forum.
Download
Click download now to get access to the following files:
Chamber_Paragon_Playset_v1-3.zip
1 MB
Comments
Log in with itch.io to leave a comment.
Oops. Didn't realise I needed AGON to play this before purchasing :/
one question: how do you get a boon in this game? In Agon you can either fill a constellation (3 stars) or getting some points of fate (up to 3 point)

Reading the rules it seems the only way here is the fate route.

Do you also get a boon when the bleed track reaches a numbered box? (It would make sense since each one is spaced by 3 points, and because it will give a mechanical incentive to the player to contain instead of destroy a SRM, since every containment gives the OPs player an advantage dice)
Yes, you get a boon when the bleed track reaches a numbered box. I'll add that detail in the next update. Thanks!
wow! Also good choice with Alpha (take damage entering) and Omega (take damage on failure) designation. I always need to double check with Epic/Mythic/Sacred, this one is so intuitive